Majuli – Visiting World's Largest River Island
The journey I am taking you guys today is the World's Largest River Island Majuli. Which was known to me, but never got a chance to visit it. So this time when I went to my hometown, Namrup. I thought to make a plan to visit this amazing island which was just 170kms away from my city. But like my other plans with many friends, which ends up me going solo. This time I had a friend ready to accompany me to Majuli.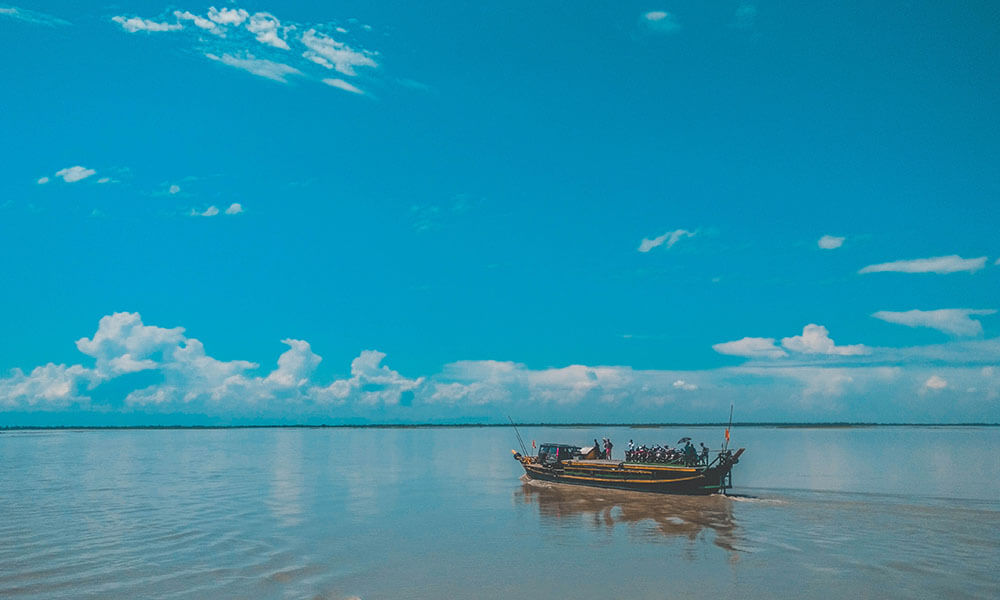 We started the journey a little late in the afternoon. As we thought we can make it before the last ferry at 4:30 PM. But the thing about riding around Assam is to get past the hurdles like livestock. As they run around the roads and if you are not that lucky jump in front of you. So we cautiously drove at a normal speed to stay safe till we reach our destination. Except for some roads where we drove at the fastest we could take the bike to. At lunch we were certain that getting the last ferry was just impossible, so we thought to stay at a friend's place in Jorhat and start early next day towards Majuli. This was my first time in Jorhat too, so we thought to head out in the evening and see the town and the main market. And ended the day with an awesome home cooked dinner at my friend's place.
Second Day – First Ferry to the World's Largest River Island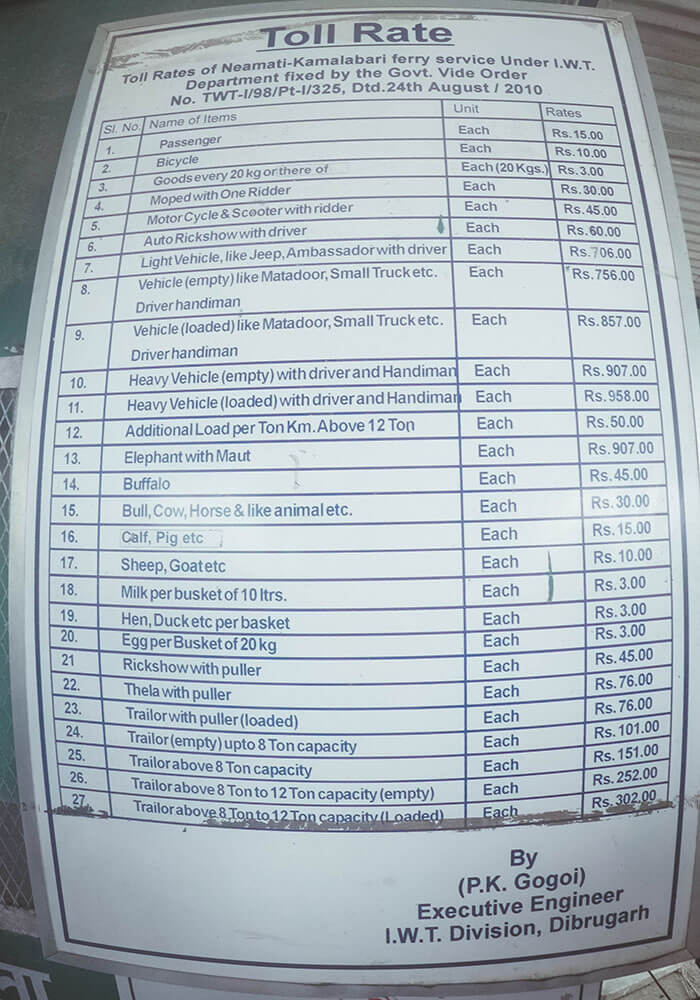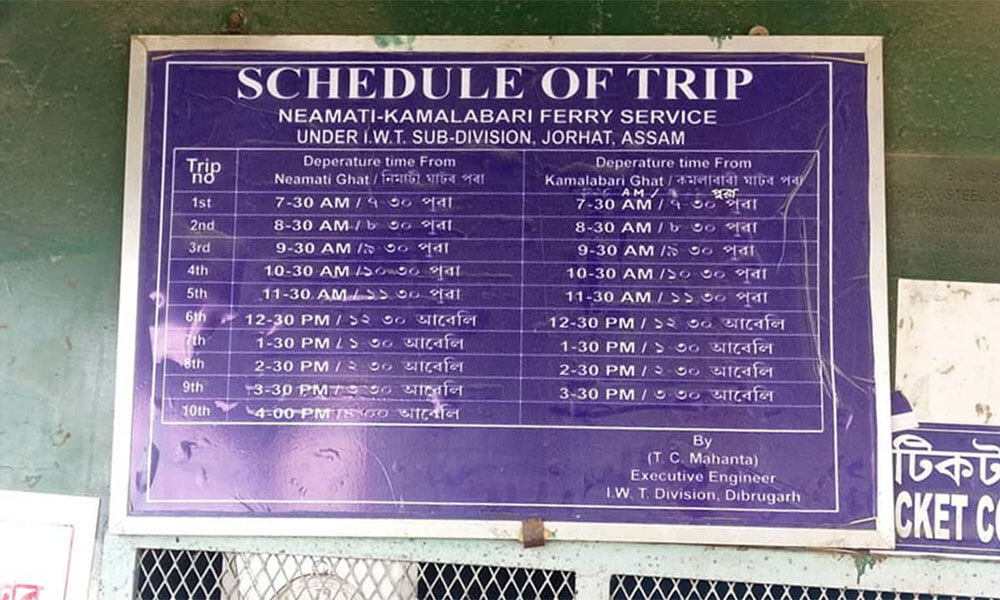 The Ferry
The last stretch to the ferry was really muddy and for people who love offloading its a treat. We were the first to take the tickets as I just sat next to the ticket counter until it opened. And later we were on top of this huge ferry which I think carried more than 6 cars including the bikes which I thought to count. But later decided to enjoy the beauty of the Brahmaputra river in front of me, excluding the hot sun on us which was just worst at such an early hour of the day. The ferry takes around 1.5 hours and if you are not planning to get tanned you can sit below in the sitting area which can occupy many people. I was there till the ferry started and was already sweating so thought to spend the time on top with the guy sailing the ferry with the cool breeze which hits you every now and then.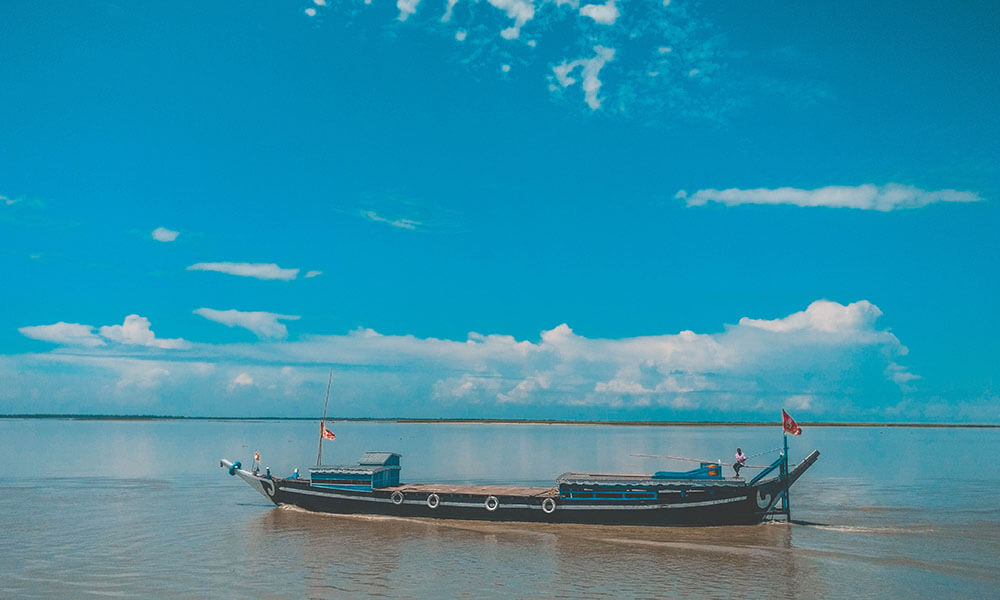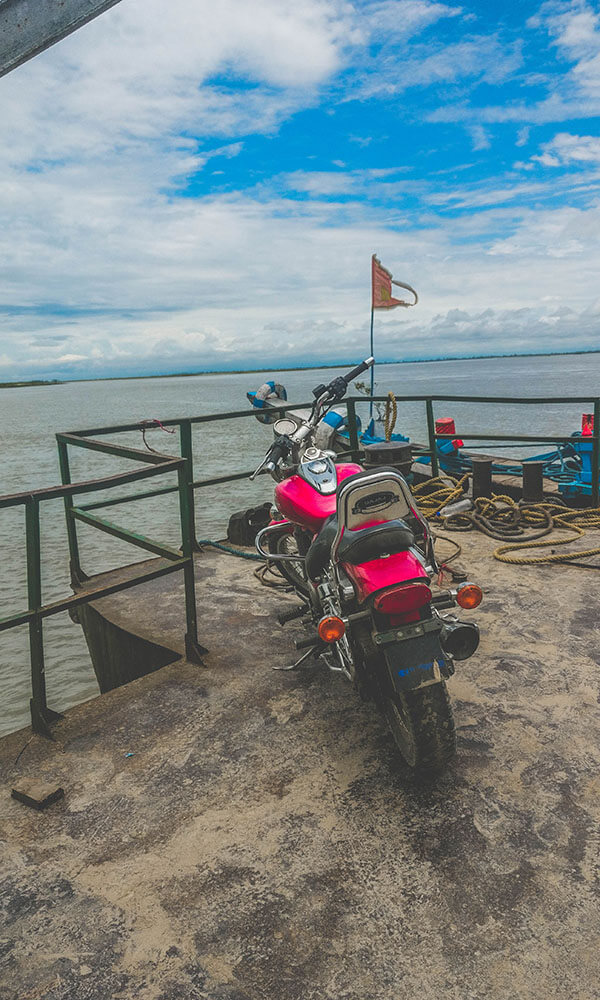 On The Island
After getting down you need to ride for around 2kms to reach the main market. Where we had our breakfast and then thought to search for a place to spend the night. We headed over to the Kamalabari Satra as they had a guesthouse, and what more you need if you get to stay at one of the Satras in Majuli. The Satras are monasteries which are also used as a centre of traditional performing arts in Majuli. Your visit to Majuli isn't complete without a visit to one of the many Satras there. The Satras include a large prayer hall with a small shrine, surrounded by dormitories and bathing tanks for the monks who stay there.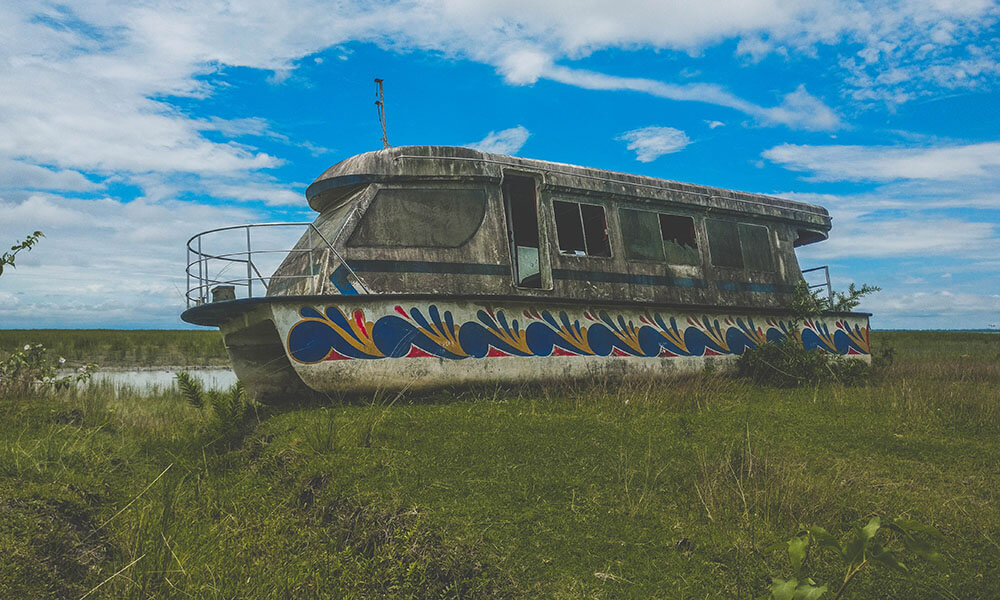 We booked a double bedroom at the Kamalabari Satra for just Rs 800($13) and also if you plan to have some food you can ask them to prepare it for you. Later we met up with a friend Gautam Bhuyan who is a local from Majuli and he was excited to show us around his island. It's really amazing to have a local friend who can show you his town as you get to see all the secret wonders of that place. We had just one day with us so we started our ride around the World's Largest Island Majuli.
Visiting the Satras
Auniati Satra
We started from the Auniati Satra which had a library, museum and the Namghar(prayer room). You are not allowed to take any pictures and videos in the museum, but you get to see the weapons, artefacts, ornaments of the ancient Ahom people and also the masks which we will get back to when we visit the last Satra. Auniati Satra is also famous for the two dance forms Paalnaam and Apsara, performed here. Which you can only see during the season time, October to March when Majuli comes alive. When thousands of tourists visit it on a daily basis, our friend Gautam suggested me to plan a trip during that time as he can show me the actual Majuli that time. With cultural programmes and such performances going on every day at the different Satras there.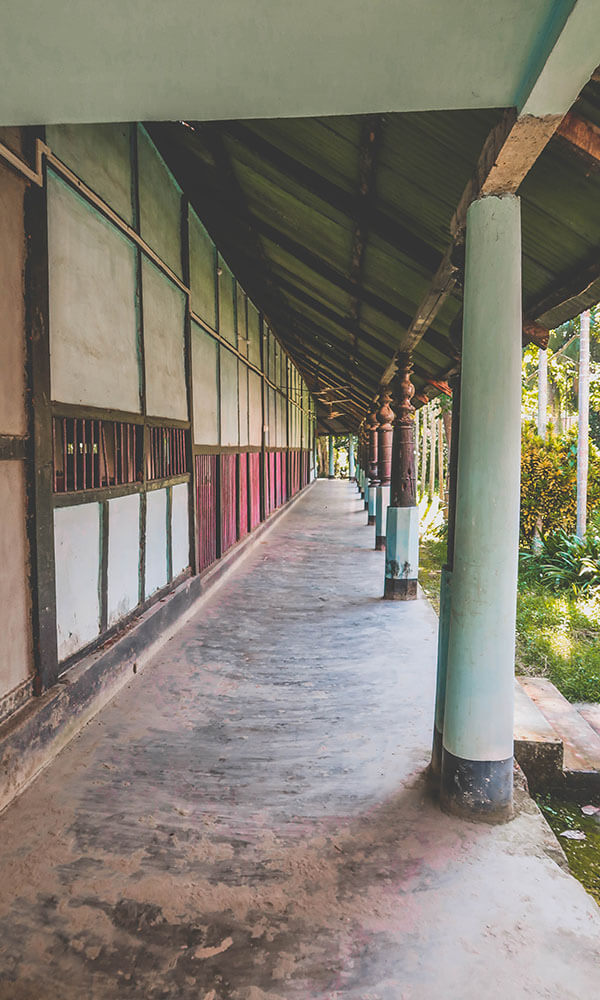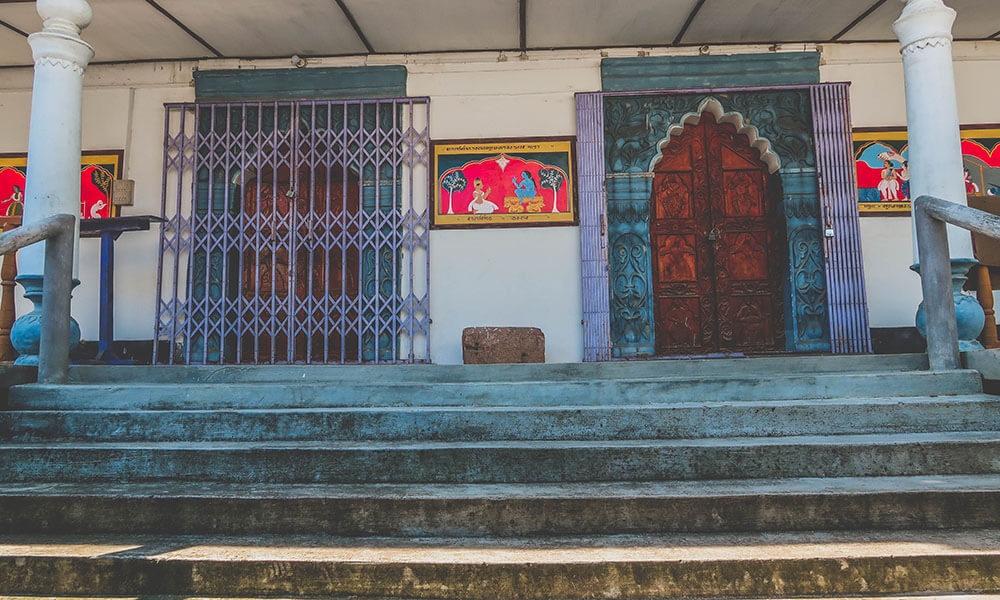 Chamaguri Satra
After visiting the Uttara Kamalabari Satra we headed towards the Chamaguri Satra the main highlight of the day. Where the famous Majuli masks are made and anyone can come and see them. Our friend Gautam is also a part of the Satra and showed us all the masks he and his friends have made. He explained me the whole process on how the masks are made which starts from shaping it with bamboo and later colouring them, which takes from weeks to months depending on the complexity of the mask. Not just in India, but the masks here are bought by people visiting from different countries and if you are interested in it you can call them and get one made for you. There were so many masks that you will have this WOW feeling that how much effort goes into preparing one and that how properly, this art form has been carried on from generation to generation.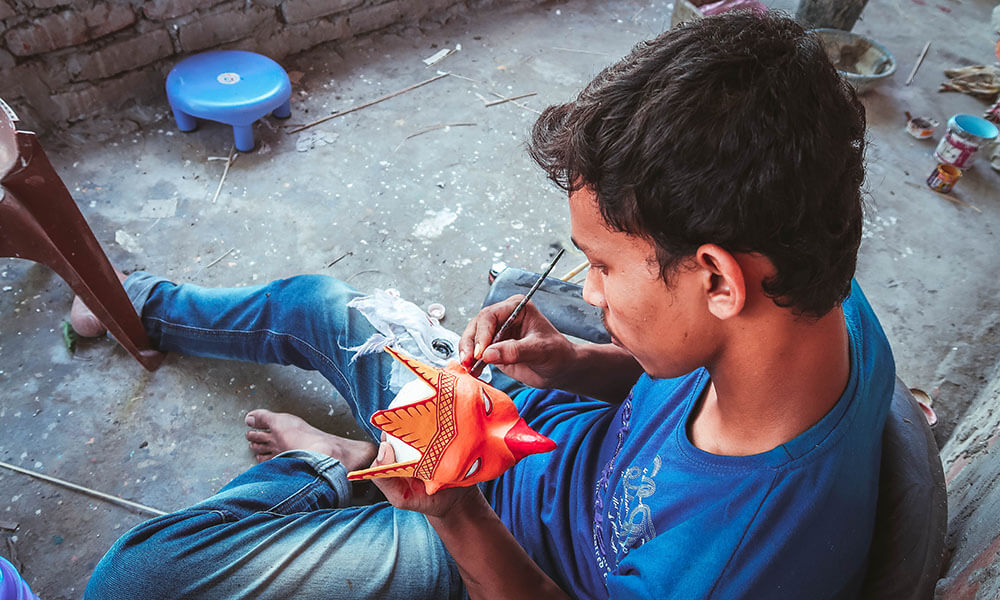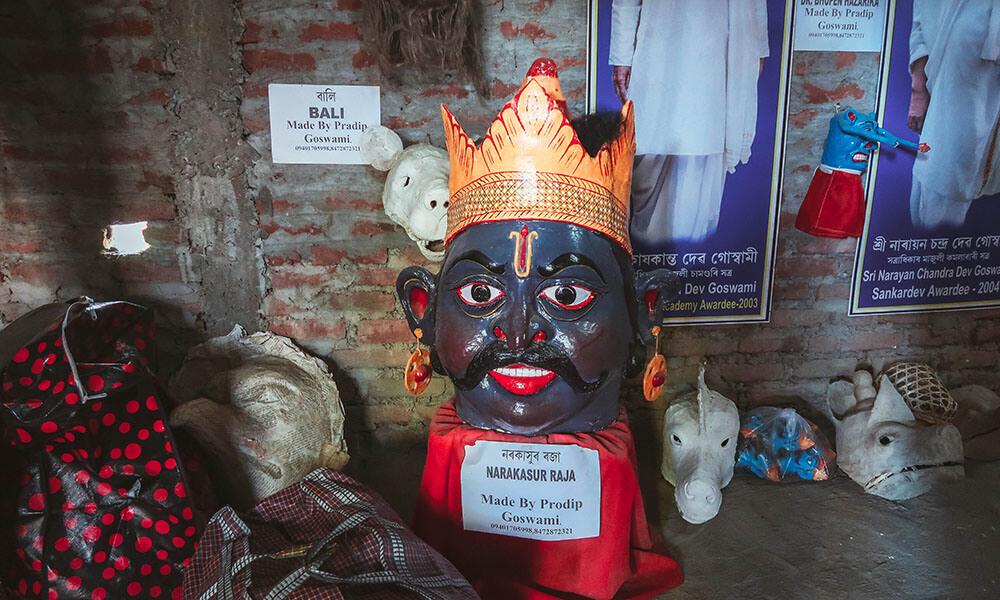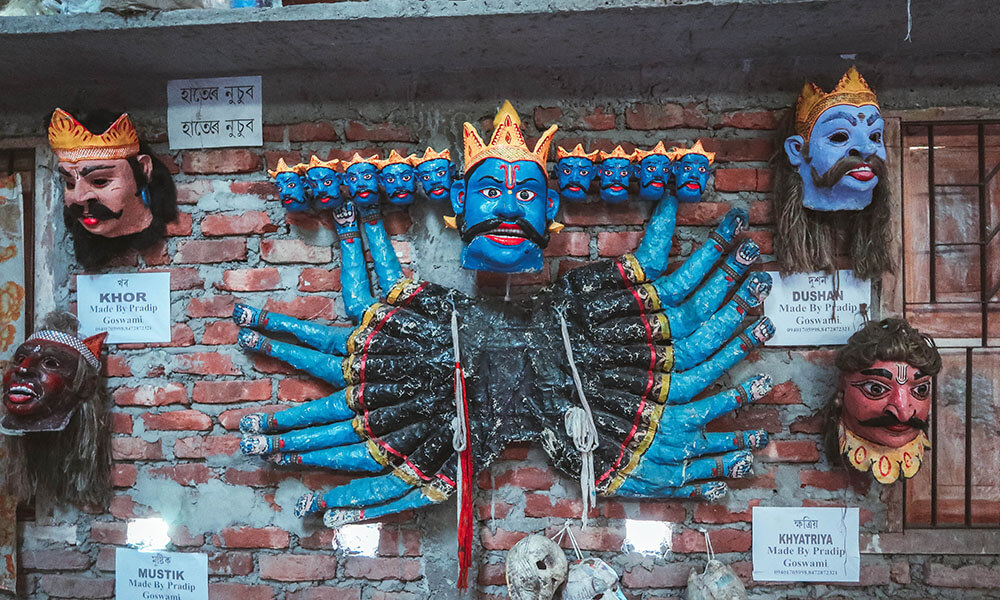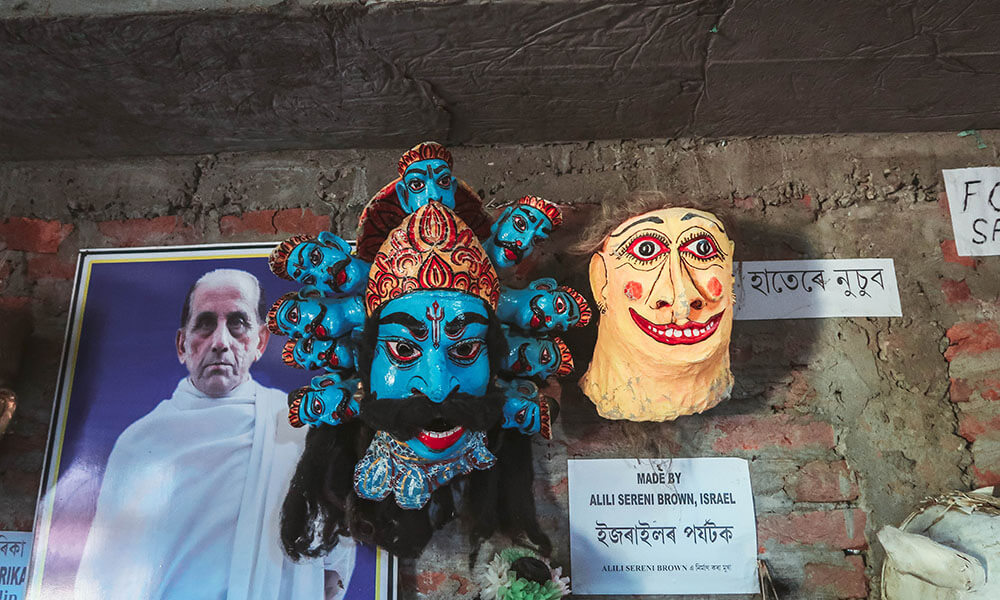 We ended the day at the Dakhinpat Satra, which too had many wall paintings of the Gods and Goddesses made by the artists from Chamaguri Satra including Gautam.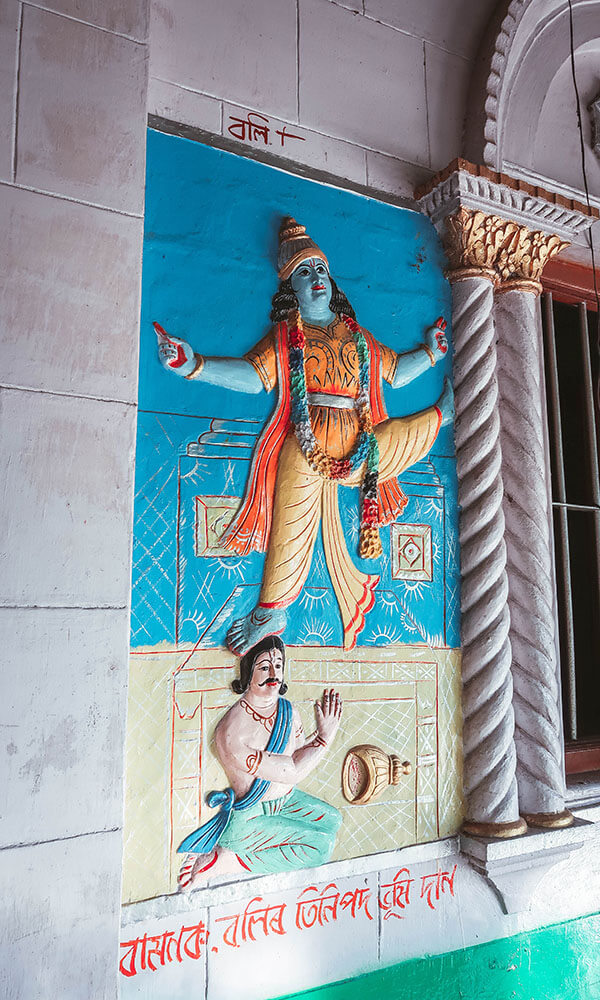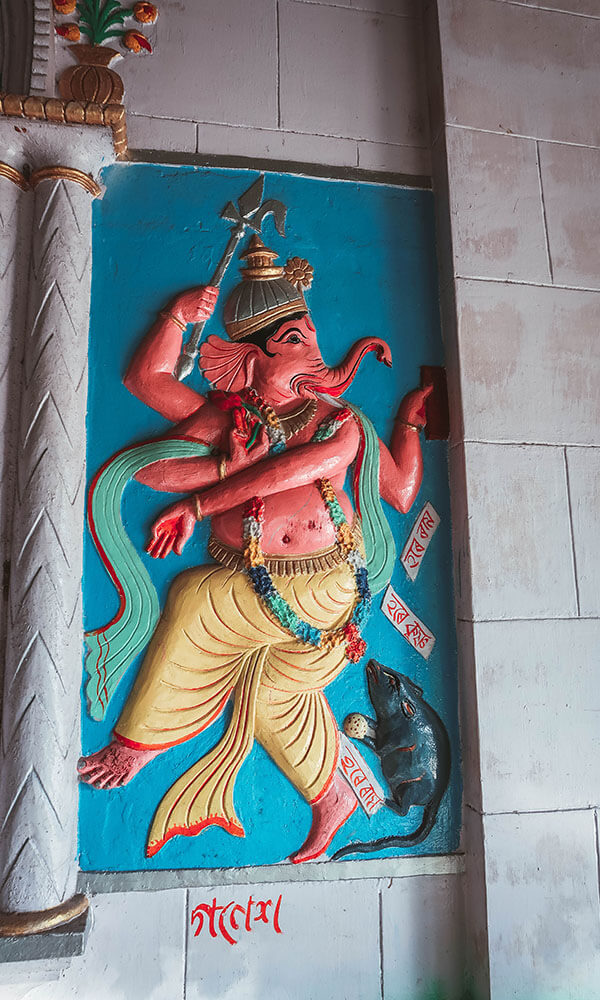 We were able to visit so many Satra in a day, but I don't think without our friend it would have been possible. Because to look around google map and then ride towards the Satras, which we knew nothing about before getting down at Majuli and meeting our friend. But we ended the day getting to know so much about the amazing island just 100kms away from the place I belong. But this isn't the end of my visit as I will be back here soon to see Majuli during the season time to see all the amazing culture there.
Best time to visit Majuli
October – March
Places to visit in Majuli
Jorhat
Majuli
Auniati Satra
Kamalabari Satra
Uttara Kamalabari Satra
Chamaguri Satra
Dakhinpat Satra
Expenses (This depends on the time of the year season times it might differ)
Stay – Kamalabari Satra – Rs 800($13)
Food – Rs 500($7)
Transport – Rs 150($2)