Namrup – In And Around My Birth Town
As I remember the streets of the place where I have spent my largest piece of life so far. The town where i kind of learnt to walk, met friends who are forever, there when I need them. My schooling so I can write this article about my town. My Beautiful Town Namrup never spoken about much online. But this article will walk you through the beauty it holds, Namrup – In And Around My Birth Town.
Namrup is a small town situated at the extreme northeastern part of Assam. Which covers it with large Tea Gardens and dense forests all around. Everyone is doing something here including the farmers at the paddy fields, to the gardener's in tea estates, and the workers of the famous industries here. There are three industries BVFCL (Brahmaputra Valley Fertilizer Corporation Ltd.), APL (Assam Petrochemicals Ltd.) and APGCL (Assam Power Generation Corporation Ltd) which differentiate it from the other neighbouring towns. With more business opportunities this place comprises of people coming and settling here from different places with their cultures getting mixed up here. Which makes this place more beautiful as we get to celebrate all of these together.
The Culture & Festivals
Bihu
Bihu is the main festival of Assam which coincides with the different phases of farming calendar every year. The three types of Bihu which depend on the crop cycle times are Rongali Bihu, Kati Bihu and Magh Bihu. This is when you see the beautiful side of Assam people celebrating with each other with feasts and games.
Durga Puja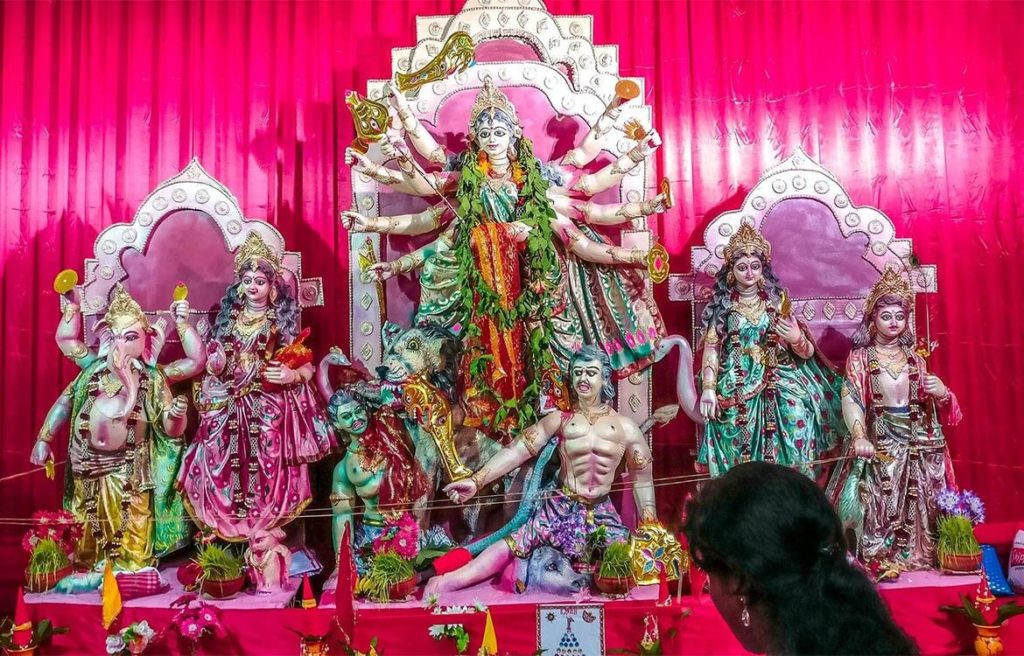 I visited Namrup on Durga Puja which is celebrated to worship Hindu Goddess Durga. It is said that this day is marked when Durga defeats the evil buffalo demon Mahishasura. It is also referred as Dussahara, Durgotsava or Sharadotsav in South India. At Namrup its celebrated joyfully with beautiful Pandals or Mandavs at many places within the town. There are stage shows organised which used to run for the whole night. But this year, due to some police restrictions they were allowed a max to close down at 11PM. Even well known singers are called to perform here sometimes so these places get too crowded that they block all vehicles there. So people walk around and you meet almost everyone there.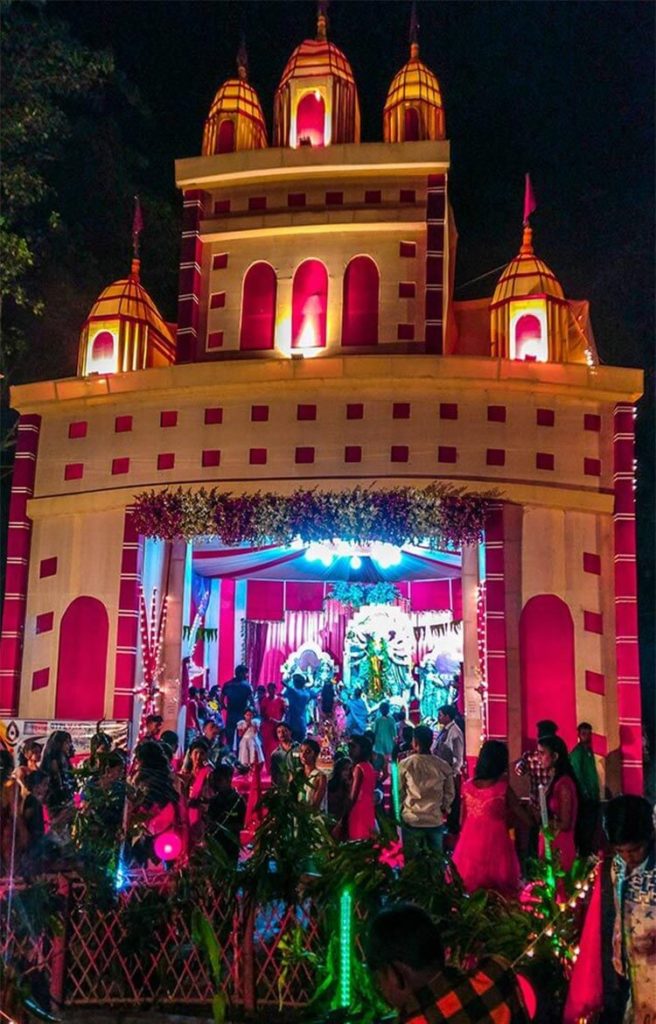 Bhaona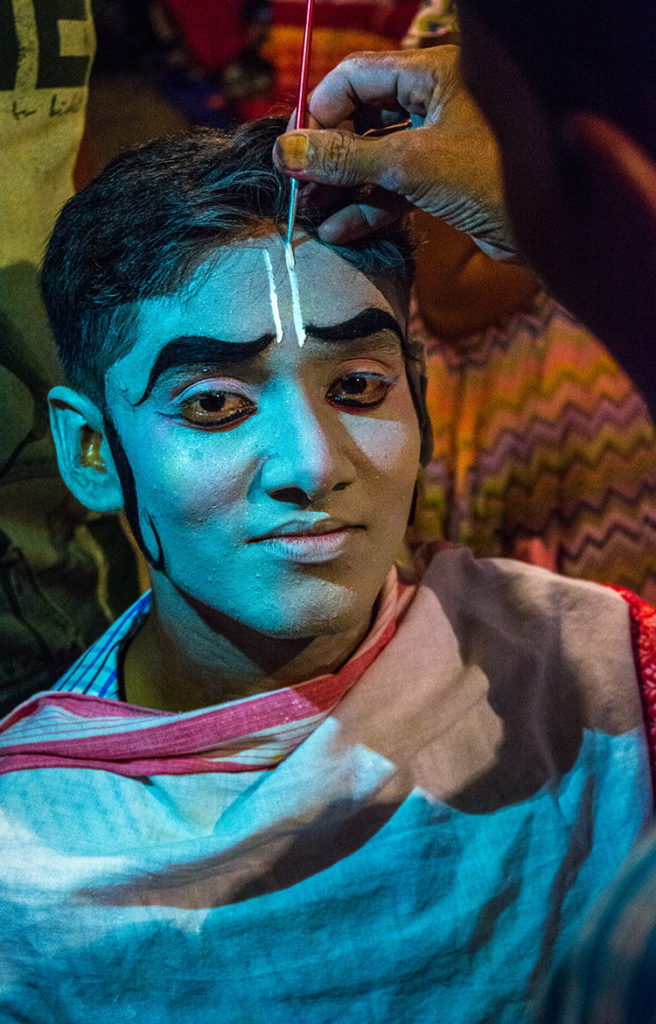 Bhaona or Plays is a traditional form of art or entertainment which is said to be started in the 16th Century. Mahapurusha Srimanta Sankardeva created these Plays to convey religious messages to the people in Assam. Which is still in practise where the localites take part in organising and then performing these plays. I was given a chance to stay in the Greenroom to check how they do the makeup and dressing of the artists. They still use traditional ways to make up the artists, so I took some pictures of my friend who was performing as Krishna in the play. Who also narrated the story behind the play, which goes like this. The title of the Play is "Ban rojar poton hori-hor juddho"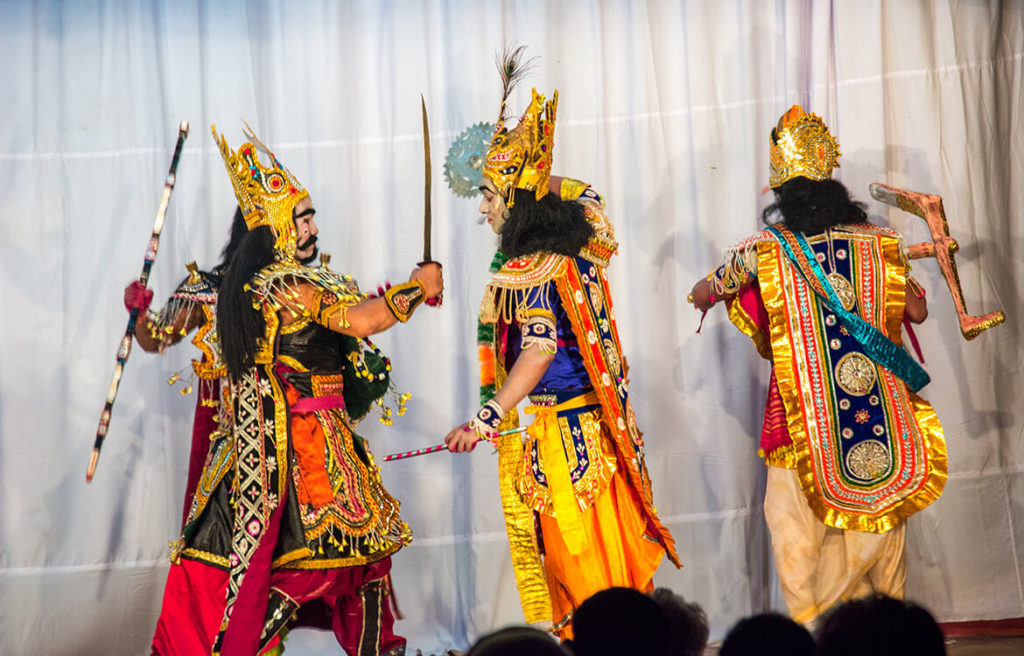 Ban(Name of the King) roja(King) was very proud, powerful but an arrogant king. As he was proud he never treated everyone in the same way and always maintained a gap between the common people. He wanted to become a supreme power on earth and because of that purpose he worshipped Lord Shiva. Who granted him the Supreme Power. But in between them Lord Krishna stepped and protested about this. And for this issue a devastating war began between Lord Krishna and Shiva and in order to calm them Lord Brahma along with the whole world offered their prayers to stop the war. Atlast both of them calmed down & King Ban was removed as a king.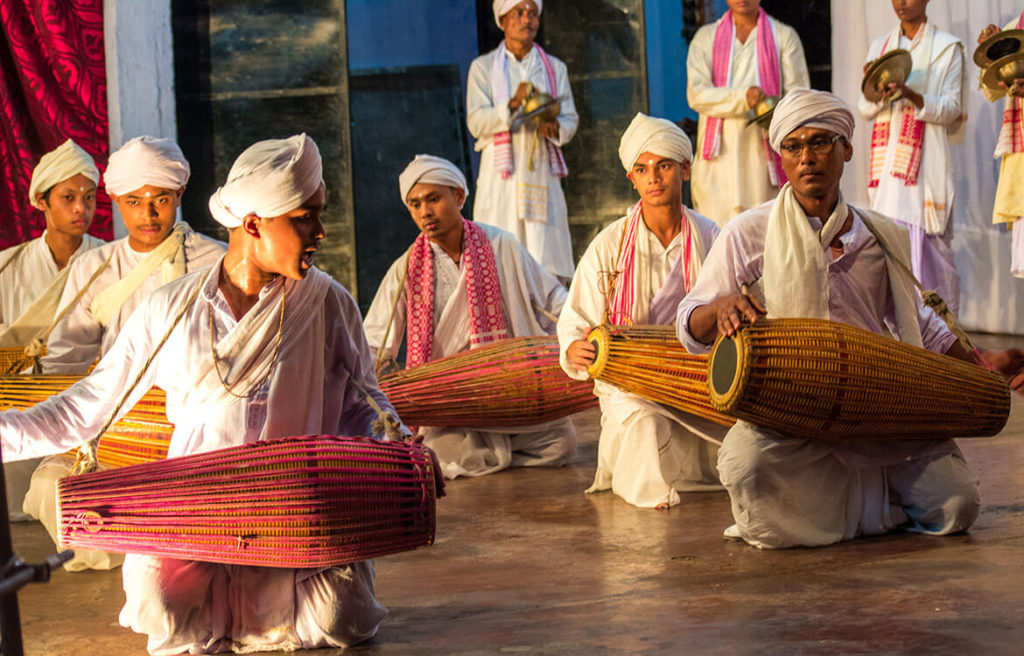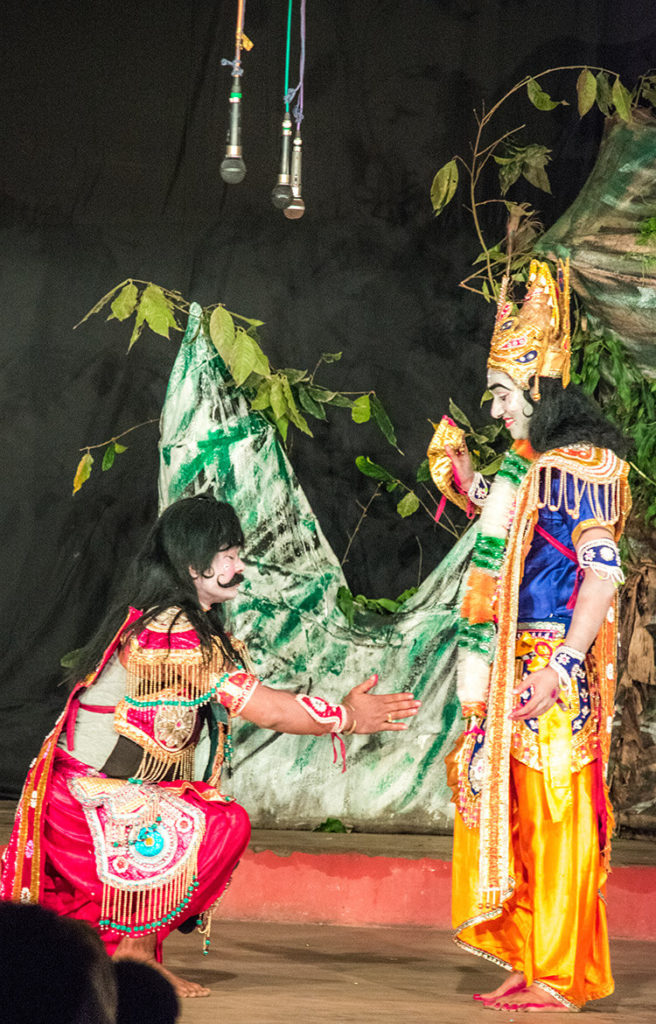 Places to Visit
With beautiful tea gardens and the industries around Namrup also has places which the local people won't know. Except the kids who grew up here because going to these places is little risk and can lead you to be grounded at home.
Dilihghat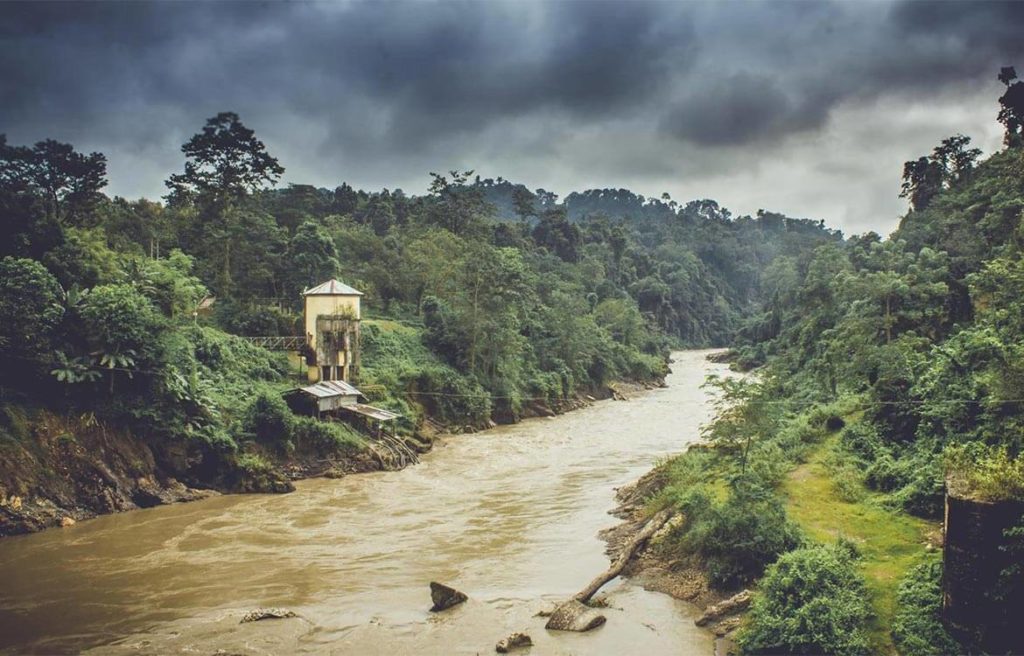 The most famous place at Namrup is Dilihghat. A picnic spot which you can reach after crossing APGCL and the Dillih Bagaan(Tea Estate). Dilihghat is situated at the banks of river Disang a tributary of the Brahmaputra. Giving this place the charm it deserves where people can sit beside the river and admire the beauty. There is also a Shiva Temple on the right just before you take the stairs covered with plants going down to the spot.
Factory Visits
You can go to visit the factories their but you need to know someone working in any of them to take the permission. To be allowed to visit their which have museums, old machineries to see and also know more about how they are built it there. Vishwakarma Puja is the time when everyone is allowed to visit the factories without any special permissions from anyone.
Small Waterfalls in APGCL
Yeah, there are small waterfalls where kids go during any festival or when they are bored cycling around. But they mostly plan it on weekends or any festival like holi to play first and take a shower at one of the never ending falls. You will need to have some serious climbing skills to reach the others after 5 which is a big one. Reaching which also takes some time and evening won't be that beautiful in that forest so we never even tried for it.
Behind APGCL Wall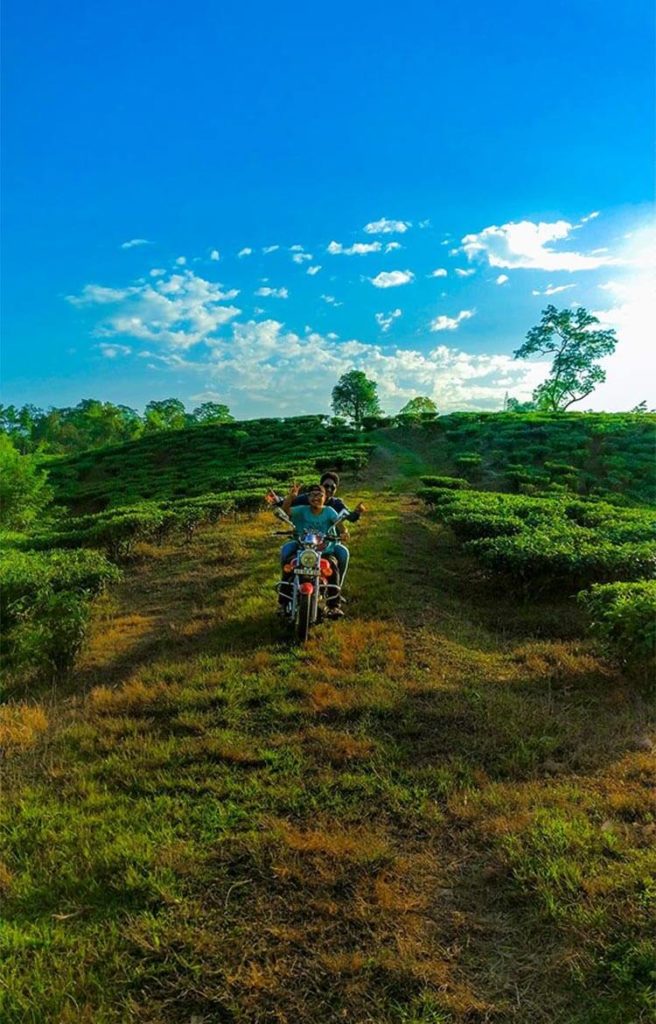 A new place we discovered this time going around APGCL as you see in the above picture. After the road ends, we enter into this place with no roads or even much of the muddy path to take us ahead. But we drove on the grass to see where it leads. Some people say that this leads to a denser forest where you may see some wild animals as many foot marks were found here. But it's beautiful to see the greenery all around with big trees and shrubs all over the mountains.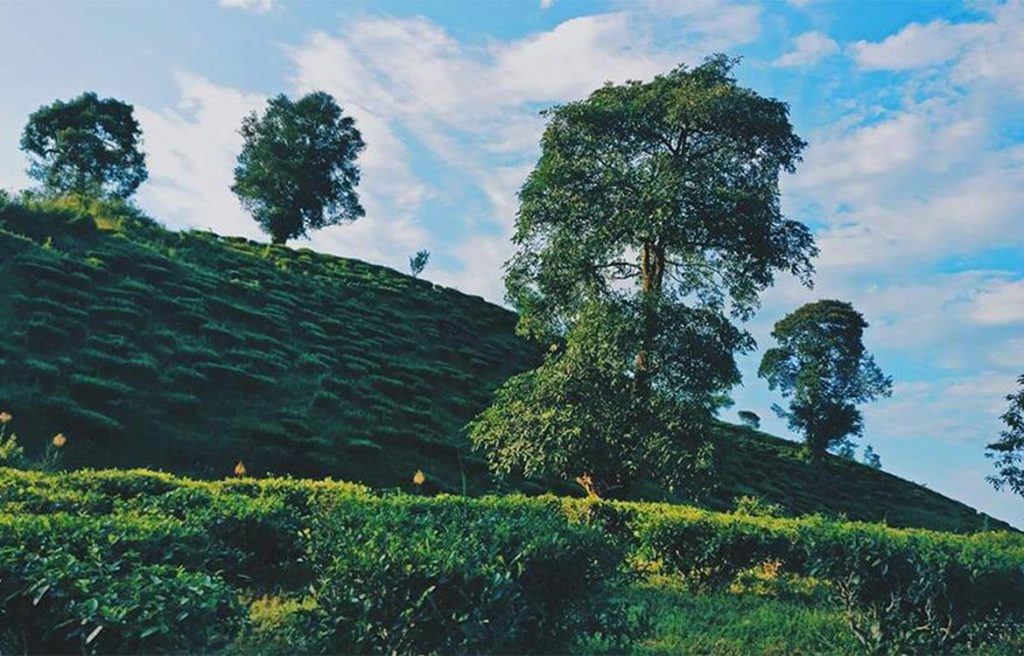 Namphake Village Buddhist Monastery

This place is not in Namrup but a must visit place when you are here. Namphake Village was established in 1850 A.D. by the phakial community. And is located on the road to Naharkatia from Namrup. Although a small community they have still maintained their centuries old culture and traditions. This village came into the news in 2009 when the princess of Thailand Rajkumari Maha chakri Sirindhorn stepped in to have a glimpse of this place. The Monastery is located in the heart of the village which has several monuments within its premises. This is a peaceful place with the beauty you can admire once you are here.
For regular updates just follow me on these links –
https://www.facebook.com/wandercrumbs/
https://www.instagram.com/avinash.ks/
https://plus.google.com/u/1/+AvinashSinghWanderCrumbs
https://www.youtube.com/c/wandercrumbs