Adam's Peak – 2 AM Trek of 6000 steps to the top
As you guys know after my Horton Plains visit, I took a train from the highest elevated railway station in Sri Lanka. Towards Maskeliya where I had to rest the whole day as I was tired and wanted to take a nap before starting my trek to the top of Adam's Peak.
No Sleep As Usual
As I reached Maskeliya, it started to rain making it tough to get a Tuk Tuk to my Homestay. And it was all dark by the time, I reached my homestay after checking in I immediately jumped on the bed, as they told me that the dinner will be ready by 8. I booked a Tuk Tuk from the homestay owner itself, as I was not planning to go out to look for one. I woke up with a knock at my door, as the meal was ready. Homecooked veg Sri Lankan Curry meal and what more you need, after my delicious dinner. I thought to return to the bed and sleep as much as I can because my Tuk Tuk was arriving at 1 AM. To take me to the entrance of Adam's Peak, and then the trek will start in dark at 2 AM.
And as usual, I wasn't able to sleep due to the excitement that I will finally be able to trek to the top of Sri Pada. And in no situation wanted to miss the chance due to sleep, I got ready just before 1 AM and started my journey towards Adam's Peak. In an hour I was there and with no expectations, was surprised to see so many shops open. With warm clothes, food and lots more to buy on your way, the path was properly lit.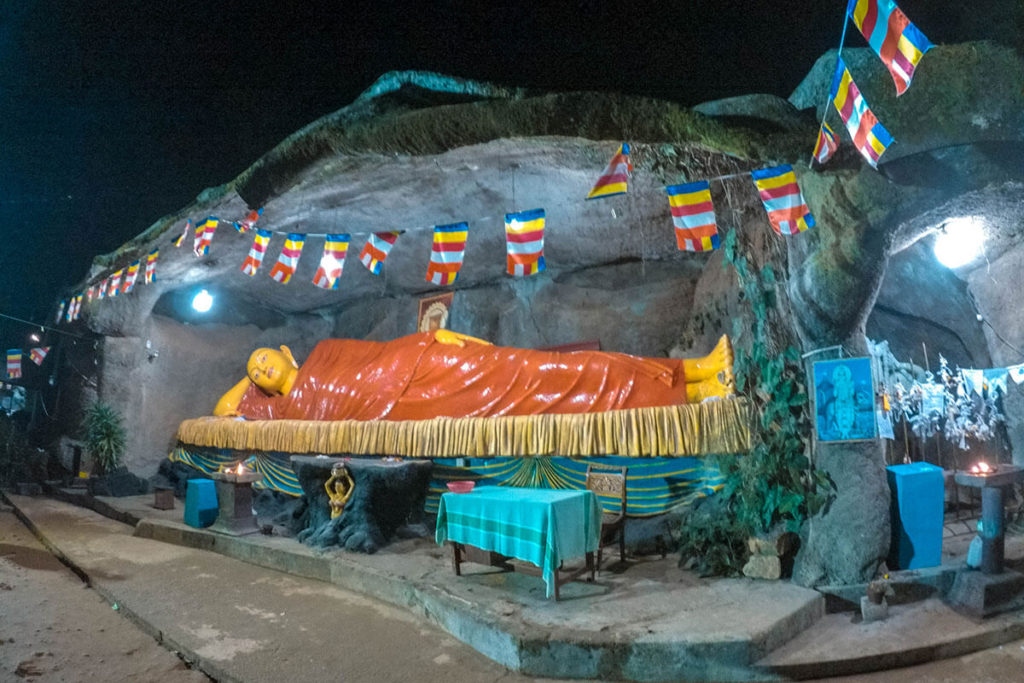 Adam's Peak
Located in Central Sri Lanka, Adam's Peak or Sri Pada is a conical mountain of the height of 2,243 m. Sri Pada translates to Sacred Footprint a 1.8m rock formation at the Summit. Which is considered to be of Buddha in the Buddhist tradition, of Shiva in Hindu tradition, and that of Adam's or St Thomas in Islamic or Christian tradition.
6000 Steps Begins
There was no entrance fee or anything except ringing the bell depending on the number of times you take the trek. This was the first time, I was going to such a height and also walking 6000 steps that too at such an hour of the day. With no sleep but lots of excitement that I will reach there just before sunrise and welcome a new day from the top.
I took it very lightly as after completing the 600th step and when the stairs got steeper. It started to become tougher and tougher with each step and seeing older people not giving up gave me more hope to complete this until the end. Sri Papa is also a pilgrim spot as they consider that it was where Adam put his first step on the earth.
As you walk up, you will find washrooms, food spots on everyone 500 step you complete, for you to refresh and take some tea. I can't remember how many lemon teas I had that day. Before seeing the signage which said that this was the last tea stop and you are just 100 m away from the top. From where it became tougher to climb as there was a very slow moving crowd with the top crowded with lots of people. And the last 100 m would have never been completed, If I would not have taken the wrong side to climb the rest. The side from where people would come down which was empty at that moment as everyone was already up. Waiting for the beautiful sunrise from the top, taking the other way I was able to reach the top just before it. With the policeman shouting at me to go to the other way.
You are not allowed to take your slippers or shoes in, and keeping them there will definitely result in losing them. As there were so many people out there, even with no one taking them away it would result in misplacing it. So, I packed them in my bag and headed over to the temple, where you take a round of the temple built on top, where the priest and devotees offered there prayers to the Golden Foot. I too got to see the foot and then headed towards the Sunrise point, but getting to the front of it was totally impossible. With people out with there phones to grab the sunrise to share with people around.
The Way Back
And that was it after that I headed back, and the stairs were blocked with so many people. That even to walk a centimetre you needed to wait for a while, but the beauty from the top was really mesmerising on our way back. Slowly, as we headed down it was not that tough, but I was bored as I thought this was the end again and again. As at night, I had rarely seen any path which I could recognise now.
But for sure, I have never been so tired in my life with my legs out of service and I was just imagining if I could get the bed. And just sleep for at least 2-3 days and later see more of Sri Lanka. So that was it for the day, then I took a bus towards Maskeliya and then started my journey towards Ella. After reaching where I just slept for the whole day, even skipping dinner. To know more about what happened the next day, subscribe my newsletters and comments if you want to know more about Adam's Peak.